Vacuum-packed sweet corn production line is used to process sweet corn and pack it in a vacuum bag, which make this sweet corn can keep 1 year and is easy for following selling. Automatic Vacuum Packed Sweet Corn Production Line includes corn elevator, corn husking machine, corn selection conveyor, corn cob top and tail cutter, corn cob blanching machine, corn cob cooling machine, corn cob vacuum packing machine and corn cob sterilizer machine.
Harvesting: The first step in the production line is harvesting the sweet corn from the field.
Corn: Once harvested, the sweet corn is cleaned to remove any dirt, debris or husks.
Blanching: The sweet corn is then blanched in hot water or steam for a short period of time to stop the enzymatic activity and reduce the bacterial load.
Cooling: After blanching, the sweet corn is cooled using cold water or air to prevent overcooking and to retain its color and flavor.
Cutting: The sweet corn is then cut into desired sizes using a cutting machine.
Packing: The cut sweet corn is then packed into vacuum-sealed bags to remove all air from the package to prevent the growth of microorganisms and to prolong its shelf life.
Weighing: The packed sweet corn is weighed to ensure that each package contains the correct amount of sweet corn.
Labeling: The packages are labeled with the product name, date of production, expiry date, and other necessary information.
Quality control: The final step involves quality control checks to ensure that the sweet corn meets the required standards and is safe for consumption.
The entire production line is typically automated, with machines handling most of the steps, including cutting, packing, weighing, and labeling.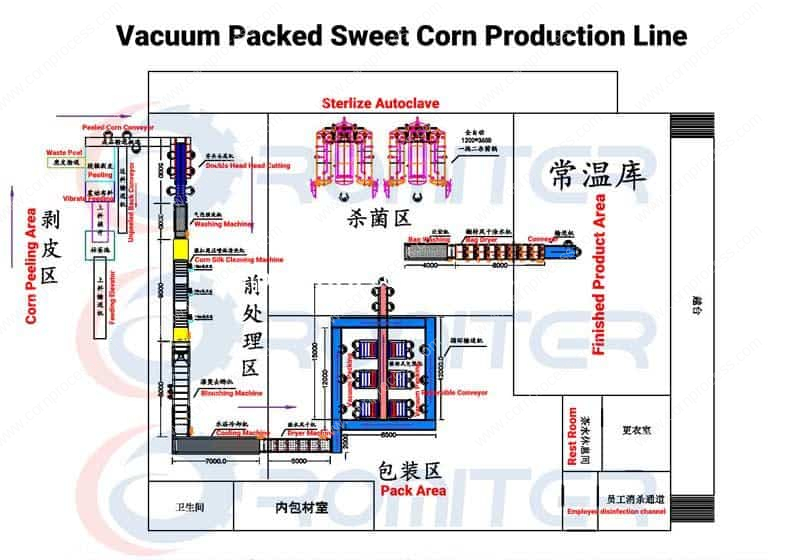 Working Video of Vacuum Packed Sweet Corn Production Line
Company Profile
Romiter Machinery Co., Ltd. is a market-leading designer and manufacturer of corn processing machines. Romiter Machinery wins a wide reputation for high-quality machines with high efficiency, excellent reliability, easy maintenance, long lifespan and an excellent technical support team.
Now, Our factory can provide corn washing cleaning machines, corn dehusking machines, corn threader machines, corn cutting machines, popcorn making machines, kettle corn making machine, corn flakes making machines, corn packing machine, vacuum packed fresh corn production line, frozen sween corn kernel production line. corn flour milling machine, corn grits milling machine
Romiter Group can provide customized machine for customers. Welcome to contact us for more information.