Fresh Sweet Corn Top and Tail Cutter Machine are used to removing the top and tail of fresh corn. Romiter Fresh Corn Top and Tail Cutting Machine is equipped with top and tail takeaway conveyors, which makes sure the top and end can be collected and not influence the working. Sweet corn top and tail cutting machine cut the corn cob by using rotating blades. The corn cob is held in place by worker and after cutting one side, then the following worker will push the corn to another side. so double side top and end are cutted.  Corn Top and End Cutting Machine can be customized in various sizes and configurations depending on the specific capacity needs.
Corn top and tail cutting machines can help to reduce the amount of manual labor required in corn processing and improve the efficiency of the overall processing operation. They also help to ensure that the corn is cut uniformly, which can improve the quality and consistency of the final product.
This machine is commonly used in commercial food processing facilities to increase efficiency and productivity.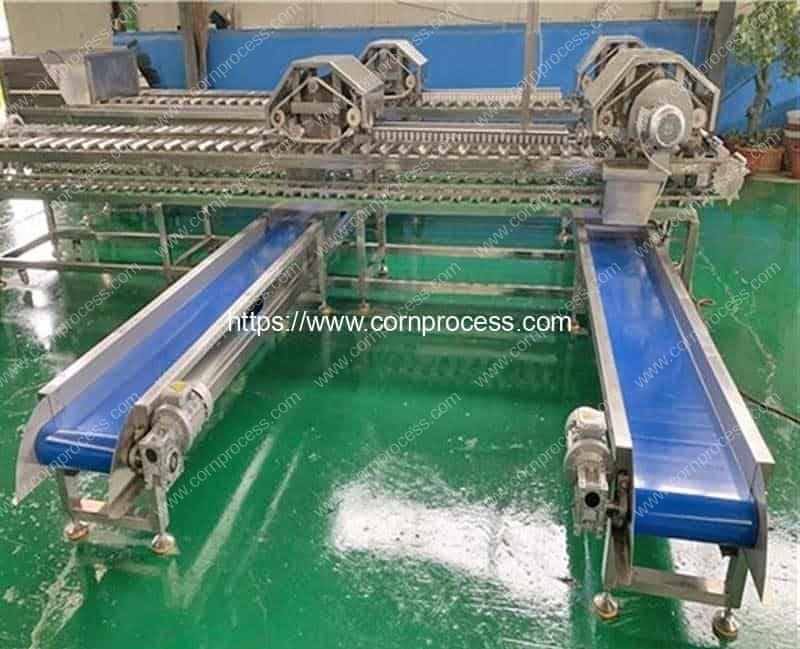 Working Video of Sweet Corn Cob Top and Tail Cutting Machine
Company Profile
Romiter Machinery Co., Ltd. is a market-leading designer and manufacturer of corn processing machines. Romiter Machinery wins a wide reputation for high-quality machines with high efficiency, excellent reliability, easy maintenance, long lifespan and an excellent technical support team.
Now, Our factory can provide corn washing cleaning machines, corn dehusking machines, corn threader machines, corn cutting machines, popcorn making machines, kettle corn making machine, corn flakes making machines, steam flaked corn production line, corn packing machine, vacuum packed fresh corn production line, frozen sween corn kernel production line. corn flour milling machine, and corn grits milling machine
Romiter Group can provide customized machine for customers. Welcome to contact us for more information.